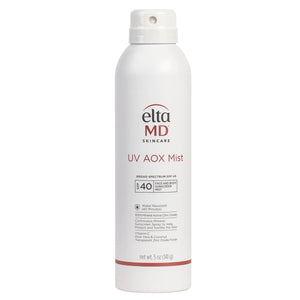 Enjoy a reimagined sunscreen spray experience with EltaMD UV AOX Mist Broad-Spectrum SPF 40 — a sheer-finish 100% mineral sunscreen spray that's enriched with antioxidants to help prevent premature aging and rejuvenate skin.
This lightweight and water-resistant formula is gentle enough to wear daily and leaves skin feeling hydrated and moisturized. With our white-to-clear technology, the only time you see the sunscreen is when you're spraying it on (so you don't miss a spot!). It conveniently absorbs into the skin within seconds and blends flawlessly into all skin types — no streaks, patches or white cast in sight. It's air-powered technology removes the need for chemical propellants, and features 360-degree sprayability for easy application from any angle — even upside down for hard-to-reach places, like the nape of your neck or in between your shoulder blades.

With 360-degree sprayability and our sheer-finish formula, applying SPF is easier and faster than ever.

Broad-Spectrum SPF 40
Transparent Zinc Oxide finish
Enriched with skin-rejuvenating antioxidants
Visibly reduces signs of premature aging
Gentle formula for daily use on body & face
Water resistant for up to 40 minutes
Air-powered, all-angle spray
Nonflammable & free of chemical propellants